Preethi Crown 3 Jar mixer grinder 500W
Regular Price RM239.00
*Preethi Crown MG-205 500-Watt Mixer Grinder, a new range of top-of-the-line   appliances from Preethi, designed to make your life easier and more comfortable.

*

Preethi Crown has 3 stainless steel jars, machine ground and polished blades for

quick grinding.

*

Its heat sensitive cut off ensures protection against voltage fluctuation and overload.

*

Also it has high grade nylon couplers for smooth trouble free usage.
Compare
Product details of Preethi Crown 3 Jar mixer grinder 500W
*India's No 1 Mixer-Grinder Brand(as  per Francis Kanoi)
*Motor coupled with floor breaker Jar enables fine grinding
*Machine ground and polished blades for quick grinding
*Shock proof ABS body
*Heat sensitive cutoff for protection against voltage fluctuation and overload
*Straight jars for efficient grinding
*High grade nylon couplers for smooth trouble free usage
*Power: 500 watts; Operating Voltage: 230 volts
*Includes: Mixer Grinder, 1.2 Litre Jar, 0.7 Litre Jar, 0.3 Litre Jar and Stirrer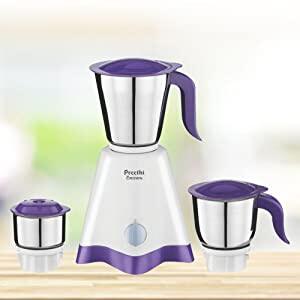 Exquisite Body Design Preethi Crown is the perfect mixer/grinder for a small kitchen. It is compact and sleek but powerful. It has an exquisite compact design. These mixer grinders are the helpers in the kitchen that ensure convenience in your cooking activities 100% Stainless Steel Jars Preethi Crown comes with 3 stainless steel jars which ensure durability and extreme safety.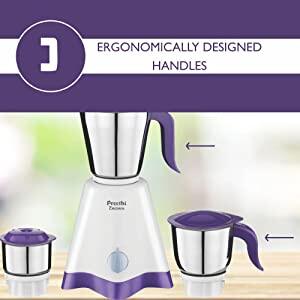 Ergonomically Designed Handles This classy mixer grinder has sturdy ergonomically designed handles with easy and convenient grip. This Mixer Grinder has a compact make and it can be conveniently stored on the kitchen top or kitchen shelf without any hassle.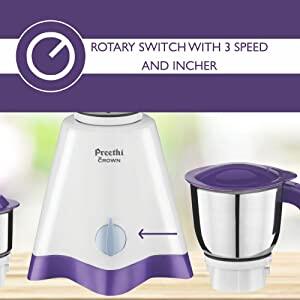 Rotary Switch with 3 Speed and Incher Preethi Crown has a rotary switch with 3 speed and incher which ensures speed control and reduces chances of short circuits. The rotary switches can be used to select a specific point by simply turning the knob. Anti-Skid Base With anti-skid feet, this appliance comes with a high sense of stability. Thus, operating this mixer grinder becomes convenient.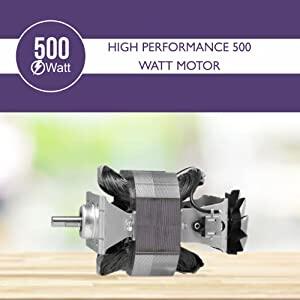 High Performance 500 Watt Motor High performance 500 watt motor of Preethi Crown ensures high efficiency and Inherent short circuit protection.
No more offers for this product!
General Inquiries
There are no inquiries yet.